Posters
Submissions for posters are now closed. Posters abstracts received have been reviewed by the ECRD 2020 Poster Committee and notifications were sent to all poster authors on 17th-18th March 2020. For selected authors: the new deadline to submit the full poster is 20 April.
Please note that poster authors are not exempt from paying the full registration fees to attend ECRD 2020.
Guidelines
Poster abstract submissions accepted in English only.
Poster abstract submissions are limited to 300 words.
You may be co-author of any number of poster abstracts but presenting author of only one.
Please indicate if your abstract has already been presented at other events.
Posters scoring
Posters will be scored using the following criteria:
1) Relevance of the topic to rare diseases
Relevance, currency (how new/recent/up-to-date the information/study is), significance and appropriateness to the conference/theme
Practical application to the field
2) Quality of content
Clarity of the title
Concision, coherence and clarity of content (summary of purpose and methodology, results, conclusions, next steps/practical application, etc.)
Methodology of the given study/poster
Originality (posters can be presented at other conferences prior to ECRD 2020)
Disqualification criteria
Commercial product promotion
Disregard for above guidelines
Submission after the deadline
Incorrect submission channel (must use the online form)
The themes mentioned below suggest issues and topics the Programme Committee would like to have addressed and should serve as a valuable guide as you develop your poster abstract.
Theme 1:
The future of diagnosis: new hopes, promises and challenges
---
Reports on combined and novel approaches to diagnosis in a research and/or clinical settings (including for e.g. basic science type of research and/or the use of new technologies)Examples of using AI and/or digital technologies to advance and speed up access to diagnosis
Improving the experiences of genetic counselling
Examples of novel methods such as co-production in diagnosis research and care
Ethical and societal aspects of a diagnosis for all
Examples of advances in Newborn screening programmes
Theme 2:
Our values, our rights, our future: shifting paradigms towards inclusion
---
Examples of policies and practices put in place to avoid discrimination and ensure inclusion of persons living with a rare disease in education, employment, leisure and support services;Cases of application of articles of internationally agreed frameworks/international law (e.g. Convention on Human Rights, Convention on the Rights of Persons with Disabilities) in favour of persons living with a rare disease in local, national and regional settings;
Information and statistical data (including surveys, censuses, administrative data, literature, reports, and studies) related to the exercise of the right to health of persons living with a rare disease; with particular emphasis on comparative studies across the EU or the new EU member states (EU13);
Examples of implementation of patient's rights in cross-border care across Europe (good practices and policies, pilot projects at local, national and regional level);
Examples of social security schemes and welfare systems that address the specific needs of persons living with a rare disease;
Examples of and studies on involvement of persons living with a rare disease and their representative organisations in the design, planning, implementation and evaluation of health and social policies, programmes and services;
Innovative services, policies or practices to implement integrated care for people living with a rare disease.
Theme 3:
Share, Care, Rare: Transforming care for rare diseases by 2030
---
We invite leaders in the field of rare diseases and highly specialised healthcare to showcase promising innovations and best practices that have the potential to redesign the way our healthcare is being delivered. For example, have you led or experienced the step-wise evolution or game-changer in how care for rare diseases is being delivered or organised in your hospital or health system, perhaps beyond our understanding of the traditional healthcare system?Have the needs of your rare disease or area of specialisation changed due to the introduction or access to new evidence-based care, innovation or technology?
ePAG patient advocates as well clinicians involved in the European Reference Networks are invited to present their good practices and initiatives in this area.
Theme 4:
When therapies meet the needs: enabling a patient-centric approach to therapeutic development
---
Patients as innovators/entrepreneurs in therapeutic development;Disruptive innovation in clinical research;
Knowledge generation through Real World Evidence collection;
Innovative approaches in repurposing (i.e therapies available, accessible and affordable to patients);
Disregarded diseases: development in yet unexplored medical areas;
Alternative business models for therapies development in rare diseases;
Sustainable patient engagement.
Theme 5:
Achieving the triple A's by 2030: Accessible, Available and Affordable Treatments for people living with a rare disease
---
Socioeconomic burden of rare diseases (individual disease or cumulative)Evaluation of incentives regulation(s) – in particular for orphan drugs and paediatric medicines
New approaches to medicines price setting
Examples of cross country collaboration on assessment / procurement of therapies
Alternative model of R&D for rare diseases
Theme 6:
The digital health revolution: hype vs. reality

---
Examples of how technology (e.g. artificial intelligence) is influencing the management of rare diseases in areas such as patient care, monitoring and development of therapies/products;Examples of innovative legal and ethical solutions for data collection and governance;
Examples of how patients have co-created new innovation and technology;
Reports or examples of international patient data collection/connection;
Technology examples that are inclusive and accessible for people with rare diseases;
Examples of initiatives that:
allow patients to collect or report their own data
enable a quicker/more accurate diagnosis
provide a positive impact on the daily lives/quality of life of patients and their carers through technology
allow patients to connect with others patients
help to reach more patients, especially those who live in areas where there is no or little infrastructure for rare diseases
Theme 7:
Rare Disease Patient Groups Innovations
---
Innovative strategies/approaches/services or projects which could potentially be useful to other patient groups/healthcare professionals/academia or which deserve to be promoted internationally and recognised by national and European authorities.
Theme 8:
Other/open topic
---
What would you like to say about your disease, your actions, your vision?
Organised by: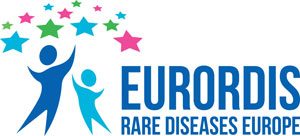 Co-organised by: